Introducing the Vega 16 Plus Egg Grader that has been designed by Sime-tek as one of a series of models Vega 16, Vega 16 plus, and the Orion 25 which are egg graders of the highest quality, being tough and technologically advanced, with reliability that has been proven in the market.
Vega 16 Plus Features
Electronic grading unit with manual egg intake and production capacity of 16,000 or 20,000 eggs per hour.
This unit can be upgraded at any moment to meet production requirements by installing from one to four automatic packing lines and one or more manual collection stations.
Range Features
A feed conveyor, connected directly to the belt from the laying units or fed by automatic and/or manual loaders, transports the eggs on 4 or 6 rows of rollers to the inspection cabin where they are checked for damage or impurity. Neon sunlight lamps, a mirror and a specially designed roller movement assist the operator in inspecting and removing any imperfect eggs.
The electronic grading process the grades the eggs into 7 weight categories using 4 or 6 electronic load cells. The weight of the egg is measured and memorized for updating of this statistical data and to determine the output section as desired by the operator.
The entire operating cycle is automatic and electronic and can be regulated by the operator using a touch screen.The screen swivels up to 180° to provide for constant monitoring and printing of production data and statistics.
The eggs remain visible through the entire process and the delicate carton filling process is carried out by specially- designed "hands" which gently place the eggs into the plastic or pulp cartons which are then closed and marked with the date of production or the expiry date.
Options
Vacuum loader
Egg Printing Ovobit Egg Printer
Egg Counter
Maintenance Contract
Part Exchange
Possible Configurations
see diagram below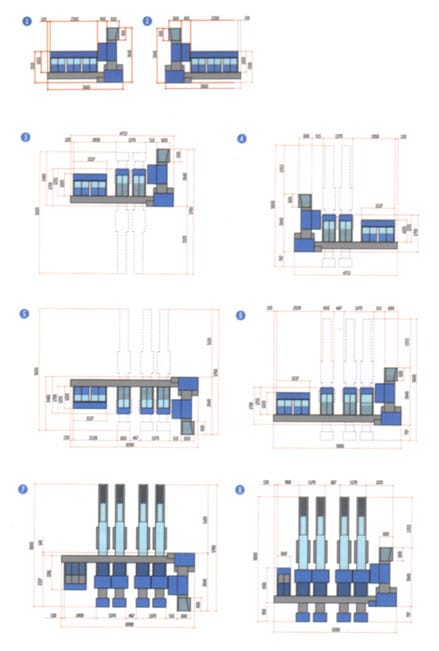 For further information please call us today on 01789 720027