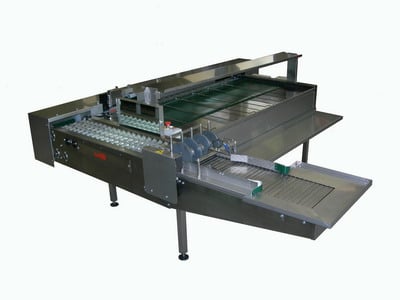 All of our egg graders are manufactured using very sophisticated materials and technologies. Accurate and detailed planning has allowed the engineering and the manufacture of highly reliable and updated equipment from a technological point of view. Furthermore these egg graders are very easy to operate and require very simple maintenance.
Capacity : 6000 eggs per hour
Feeding Lanes : 2
Weight classes : 7
Power supply : 230 V. Singlephase, 50 Hz
Consumption : 0,37 Kw.
Weighing Scales
These are the "heart" of the egg graders. This is the reason they have been designed and manufactured with such care and precision. For special requirements the counter weight can be set to any weight category.
Belt Conveyor
This is an innovative solution which carries out the delicate operation of moving the eggs from the exit of the scales to the hand packing table.
Modulation
The engineering and the manufacture of the modules for this egg graders allows for very easy maintenance besides offering the possibility of feeding the eggs either by hand or by in-line feeding conveyor. The limited dimensions of this egg grader permits it to fit into many situations according to individual needs.
Candling
All of our egg graders are fitted as standard with a candling system using fluorescent lamp.
Options
Vacuum loader
Egg Printing Ovobit Egg Printer
Egg Counter
Maintenance Contract
Part Exchange
Dimensions
see diagram below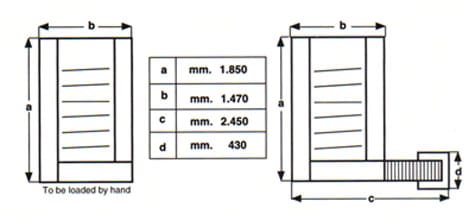 For further information please call us today on 01789 720027