Reids Equipment provide high quality, easy to use mat and slat washers.
The Easy Clean 600T poultry equipment cleaning system is a quick and easy way to wash slats and mats. A simple one-man operation can wash ~180 slats per hr  increasing to ~400 slats per hour with two operators.
Working Pressure: 2000 – 3000Psi.
Water Usage: 24 – 36 Lt Per Min.
600MM Slat Output: 186Mt Per Hour.
No. of Operators: 1
Electrical power: Self-contained 12V/24 Or External Supply
Horsepower Requirement: 30Hp Minimum.
Gross Weight – 970 Kgs.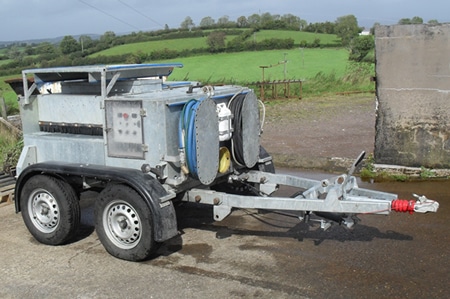 In addition to this the Ecosystems 600T can also wash flat slat bars at a rate of 1 typical breeder house of bars in 20 mins, however to achieve this rate 2 operators are required. Nest mats also require 2 operators who can achieve up to 480 mats per house for enriched cages.
The Easyclean 600T is available in the following variants:
The freestanding unit which requires an external pump and power supply and can also be made road legal for ease of transport.
Tractor mounted, self-contained unit.
Mobile, road-legal, tractor-driven, self-contained unit.
Mobile, road-legal, engine-driven, self-contained unit.