Slat & Mat Washers
Home
»
Slat & Mat Washers
The Easy Clean 600T poultry equipment cleaning system is the quick and easy way to wash slats and mats. With two operators an incredible 400 mats can be washed per hour and with a simple one man operation, 180+ slats can be washed in the same timeframe!
Working Pressure – From 2000 – 3000Psi
Water Usage – 24 – 36 Lt Per Min
600MM Slat Output – 186Mt Per Hour
No. of Operators – 1
Electrical power – Self-contained 12V/24 Or External Supply
Horsepower Requirement – 30Hp Minimum
Gross Weight – 970 Kgs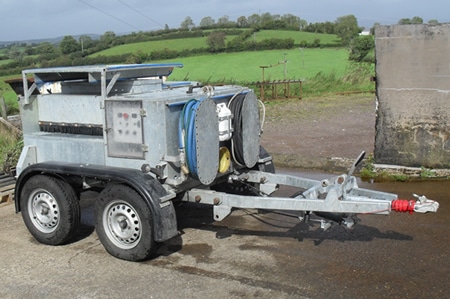 In addition to this the Ecosystems 600T can also wash flat slat bars at a rate of 1 typical breeder house of bars in 20 mins, but to achieve this rate 2 operators are required. Nest mats also require 2 operators who can achieve up to 480 mats per house for enriched cages.
For an 8000 bird free-ranges, barn and breeder unit 1 to 1.5 hours Film-faced plyboard 186mt per hour Nest box trays (Jansen) – 150 per hour Can also be used to wash nest box lids and egg belt covers.
The Easyclean 600T is available in the following variants:
Free standing unit which requires an external pump and power supply and can also be made road legal for ease of transport.
Tractor mounted, self-contained unit
Mobile, road-legal, tractor-driven, self-contained unit
Mobile, road-legal, engine-driven, self-contained unit
For further information please call us today on 01789 720027