Our egg graders are manufactured using very sophisticated materials and technologies. Accurate and detailed planning has allowed the engineering and the manufacture of highly reliable and updated equipment from a technological point of view. Furthermore these egg graders are very easy to operate and require very simple maintenance.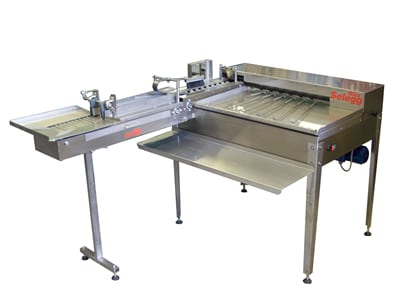 The S 31 has a capacity of 3,000 eggs per hour with the following features:
– In-line feeding conveyor for the direct supply from the belt coming from the cages or for semi-automatic loading with the hand vacuum lifter.
– In-feeding with one row of rubber rollers, candling system with one fluorescent lamp, with egg's rotating motion to simplify candling.
– Grader for 7 classes with 6 precisely scales.
– Hand-packing table in stainless steel for easy cleanliness.
Adjustable dividing lathes for all grades.
– Trays keeping shelf.
– Stainless steel solution.
– Electric power 230 Volts single-phase, 50 Hz, 0.18 Kw.
Optionals
Hand vacuum lifter (5×6) for in-line feeding conveyor's semi-automatic loading
Egg counter on in-feeding
Pre-stamping device to stamp the eggs before the weighing
For further information please call us today on 01789 720027